You may need to wait until later this year to see it on TV. Due to SARS it can even be delayed till next Jan 2004.
It is gonna be a madarin language long movie (possibly 2 hrs) starring Nicholas Tse Ting Fung and Vicki Zhao as karate trained police 27-28 yr old officer An xin. Jade Goddess is based on a popular novel of the same name. Jade Goddess is part love story and part drama. Anxin has a young son and is to be married (to Yang Rui) but falls for wild and good guy Nicholas ( Mao Jie, 24-25 yrs) when she meets him one day. Mao Jie's family background is complex. She hesitated about the marriage after she decided not to marry her fiance because he unintentionally betrays her. She finds it difficult to say her true feelings for Mao Jie who makes her feel at ease. An xin also gets pregnant, remember she has a young son who also is Mao Jie's son. The child is played by a young 4 year old boy from China. China will broadcast it first before anyone else.
Vicki Zhao Wei said Jade Goddess of Mercy was like one ultra long movie.
News
Director An Xui talking about vicki: In movie version of Jade Goddess, AnXin is mature, and wiser than one in the novel. ZhaoWei have pure and mature and heroic disposition which fit for the role. After each filming, ZhaoWei would come to "See" how she did. Unlike many actress who wanting to make sure every strand of hair in the right place, before they film, ZhaoWei doesn't mind such. There time production team remind her to put on make up, but according to ZhaoWei, AnXin is attractive because of her natural beauty, honesty.
Original article: http://www.voy.com/8787/1124.html

Due to recent SARS outbreak in Beijing, production team temporatily postpone their plan to film in Beijing end of April. The team will remain in Yunnan until late May. Taking full advantage of the time, director Ann Hui only film couple scene a day, in sucluded part of Yunnan. Being well know for high expectation, when not filming, Director Ann Hui together with cast, discuss about the role, character, and so on. In her free time, Ann Hui can be seen constantly by Zhao Wei side, chatting, joking,accompanied her to dinner and so on happily like a pair of "mother and daughter".
While filming slow down, production team also rejected media seeking permission to interview the cast.
Director Ann Hui and producer have high praised of the cast, after seeing segment of the film. Not only statisfied with Zhao Wei portrayal of An Xin, but often praising Zhao Wei not only an eranest and professional actress and intelligent. More ever, Director Ann Hui often have heart to heart chat with Zhao Wei after each scene film, the production team can't resist but marvel at the "mother-daughter "relationship formed by these 2 ladies.
Here is what Liu Yu Long said regarding the movie-
Unlike the novel, age of character in Jade Goddess is considerably higher, AnXin in her 27-28, Yang Rui in his 30, while Mao Jie is about 24-25.
For a girl in her ealry 20 to experience what AnXin have would have been frivolous. Therefore, age slightly raised, and agree agree with this arangement. The love, hardship and exprecience of each character didn't didn't have much in commom with the original novel. I hope people will not criticized Ann Hui for not following the original novel, because the movie version is not like novel nor tv drama.
Photos-Some photos are posted by Biogirl on Vicki's Forum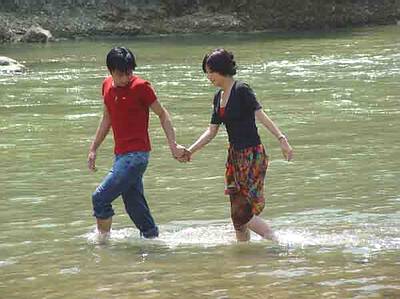 Nicholas Tse (Mao Jie) & Vicki Zhao (AnXin)
Liu Yu Long as Yang Rui-Anxin's Fiance
Sun Hai Ying as Chief Lao Pan. An Xin's superior.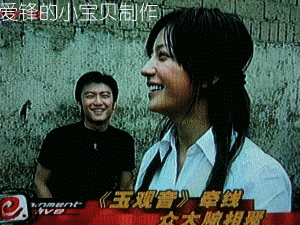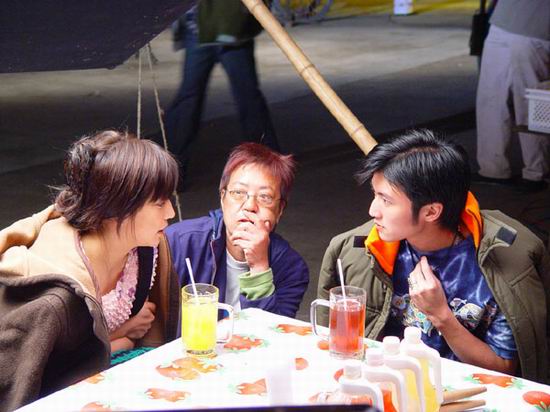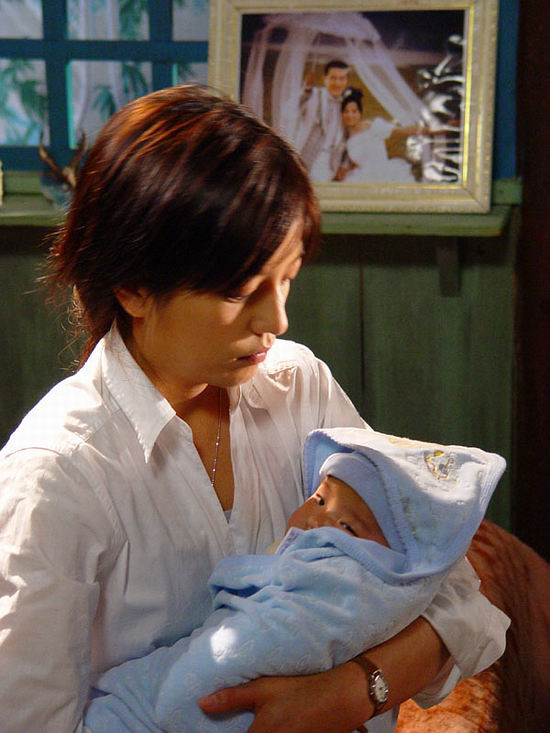 This baby and vicki grew attached to each other
Spoilers
*Possible spoiler (may not actually happen), highlight text below to read. These are strong spoilers and may wreck your future viewing of Jade Goddess. If you do not want to know what happens to the main characters do not read.
Mao jie kills Chief Pan and later dies too. An xin's finance dies too and Mao Jie actually has a wicked side deep within him and ends up killing his own son.An xin can't stand the pain of losing three people she cared about and so runs away for a new life.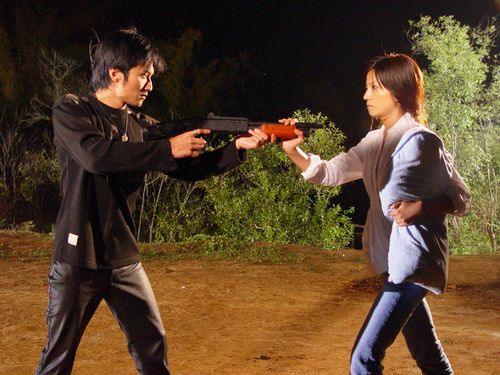 The gun and baby are fake in real life but in the film
it could be loaded and the baby sound asleep.
More pics and news on the news section.
Click news link at the menu.